Over the years, having Karen as my financial planner has made me feel more confident about my financial well-being and future. 
Assistant Director, Civil Service
You feel like you're talking to your trusted friend who has your best interests at heart.
Management Consultant and Homemaker
Karen creates an experience that relieves a person of any financial tension they may be feeling.
Director, Leadership Strategy Consultancy
SOUND FINANCIAL PLANNING BEGINS HERE
Financial planning is about taking responsibility for your own financial well being. It also includes checking your financial pulse rate at regular intervals to ensure that your are in a continually healthy state.
Since 2005, Karen has been helping professionals and executives protect, build and preserve their wealth. She is a Certified Financial Planner™ – that means quality advice and vital expertise for her clients.
Most financial planning starts with an assessment of goals. The approach that Karen takes in creating a unique financial plan for each individual is holistic and it focuses on the person's financial and non-financial priorities.
Karen provides a range of Personal Financial Advisory Services. This includes Risk Management, Investment Planning, Retirement Planning, Children's Tertiary Education Planning and Estate Planning.
Karen's clients trust her for her sound unbiased advice and professional ethics. Get in touch and schedule a consultation with her to assess how she can help you to achieve your financial goals. The process begins now.
Comprehensive financial planning means addressing a person's financial needs and concerns holistically as opposed to looking at them from a 'piecemeal' approach. The range of financial planning services that Karen provides include:
"I approached Karen because I was concerned about my financial planning, specifically my insurance coverage. I had no idea what I was protected for (though I had a few plans) and whether I was sufficiently covered. Karen came highly recommended by my good friend who had earlier engaged Karen to evaluate her insurance portfolio.

In my interactions with Karen, she has been extremely professional, helpful and gave advice that is relevant to my needs. The fact that she is not tied to any single insurance company makes her very independent in selecting suitable plan options for me from across the market. She is responsive and kept a close tab on the status progress of all my applications up till final approval. I would highly recommend Karen if you are looking for sound financial planning advice!"
MS.PATRICIA YEW
EXECUTIVE DIRECTOR, INVESTMENT MANAGEMENT
"I approached Karen because I wasn't sure if I would have sufficient money to cover future medical costs as well as monthly expenses during my retirement. One thing I like about Karen is that she is well-informed of the various insurance plans that are available in the market and will offer her clients the best, value-for-money solutions. She is professional, approachable and helpful and it's always a pleasure to talk and discuss with her. I have no qualms sharing with Karen my financial worries. I found the experience wonderful."
MS A. NG
HEAD OF DEPARTMENT, JUNIOR COLLEGE
"We have known Karen for 7 years and found her to be someone who takes time to truly listen to her customer's needs. With Karen, you never feel pressured or treated like a 'sales target'. Instead, you feel like you're talking with a trusted friend who has your best interests at heart. Her expert knowledge in financial planning has guided us to make well-informed decisions. Before we bought our landed property, we wanted Karen's opinion. She did the number crunching with us to make sure affordability is not an issue. She also highlighted various scenarios that could adversely affect our cash flow and how these situations can be mitigated. Through regular reviews, we are able to keep a close tab on our financial health and make adjustments whenever required. We are happy to have Karen as our financial planner and would highly recommend her services."
MR AND MRS TEO W.L.
MANAGEMENT CONSULTANT AND HOMEMAKER
"Karen is a sincere, caring and competent wealth planner. We have known her for 9 years now. Prior to meeting Karen, our financial planning was ad-hoc and messy, let alone having any visibility about our current financial health. Thanks to her, both of us now have better visibility of our financial goals. Karen stands out because the advice she provides is always well-organised, straight to the point and relevant to our needs. She makes the complex easy to understand and we appreciate the holistic and clear strategies she has created for us in our risk management and retirement planning. Recommendations are always supported by the results of thorough research and comparison. We are pleased to have Karen as our adviser and fully entrust her with our financial planning matters."
MR AND MRS LIM K.Y.
EDUCATORS
"Karen has been my financial planner for 6 years now. What impresses me till today is the level of research and comparison that she does each time when new solutions have to be implemented to meet my own financial planning needs as well as my family's. I greatly appreciate Karen's holistic and timely advice as it has helped me to save money and avoid costly mistakes. Karen's professional ethics is something I value very much. Her personable nature makes working with her a joy. I would highly recommend her to those who value sound financial planning advice."
ZENA CHAU
BUSINESS OWNER, INTERIOR DESIGN
"I approached Karen to find out if I had adequate or too much insurance, the right type of coverage and whether I would have enough for retirement. I liked the way in which she uses charts and diagrams to illustrate my financial plans, cashflow, balance sheet and explained how each one affected my goal of achieving financial freedom. The clarity was invaluable and pointed me to take the right actions.

I appreciate that Karen looks into my goals holistically and pro-actively ensures that the financial plan she has implemented for me is on track. She has been objective and consultative in her approach. Over the years, having Karen as my financial planner has made me feel more certain of my financial well-being and future. I would recommend her to others who are looking for a balanced way to review their financial plans."
MS. WEE SOEK YEN
ASSISTANT DIRECTOR, CIVIL SERVICE
"Karen has been helping me with financial planning for many years now. She is very professional and is ever ready to listen to my needs, concerns and answer the queries that I have. She is thorough with her research, and always gives me solid solutions backed by good reasoning. She is efficient, approachable and prompt. I would not hesitate to recommend Karen to others."
DR. JANE TAN
SPECIALIST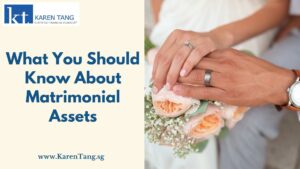 Matrimonial assets come into the spotlight, especially, when a divorce is on the table. In Singapore, marriages and divorces are
Read More »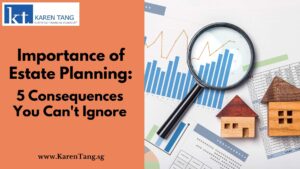 Estate planning may sound like a big, complicated word. But in reality, planning your asset distribution need not be a
Read More »